In a move that caught EVERYONE by surprise, Microsoft announced the rebooting of their long dead franchise Microsoft Flight Simulator.
Details are still VERY sketchy, but the trailer is nothing short of jawdropping.
What we know so far:
Native 4K Resolution Support
Full world available at launch (no more of the Flight issues of region by region sales)
It is confirmed for PC Windows 10
It includes satellite imagery as well as being powered by Azure Microsoft's cloud based architecture
The sim will feature a range of aircraft including wide bodies and light aircraft. Seen in the trailer were:

Socata-Daher TBM900
Boeing 737 (700 or 800 or 900 series)
Airbus A320NEO
Icon A5
Piper PA28 (possibly from internal view)
Diamond DA42 (or DA62)
Carbon Cub (Tundra Tyres)
Cessna Caravan 208
Mudry CAP10
This is very much a developing story and looks amazing. But will it die like Flight? Or is Microsoft here for the long haul once again?
There is no price point as yet, however it is being marketed as part of their Xbox Game Pass subscription service giving access to over 100 games on demand.
More information is expected over the coming days as E3 kicks off in the US, and on the official product page http://www.xbox.com/flightsimulator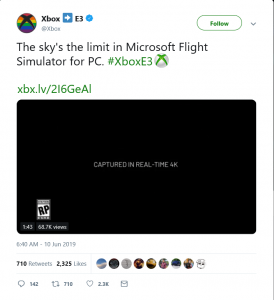 The timing is interesting, dropping just hours after Flight Sim Expo wrapped up in Orlando from its biggest event ever and just hours before E3 kicks off.
What an exciting time!
***Updated with additional info about aircraft thanks to Ost Virtualaviations and FB user George Jones***