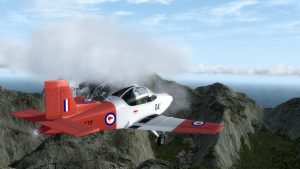 I've just released my latest livery, this time of a more unusual subject.
The Pacific Aerospace CT/4 is a well known sight in the skies over Australia and New Zealand, serving with distinction as both air forces' primary basic trainer for many decades.
Pacific Aerospace teamed up with Raytheon and BAE Systems to offer a two aircraft solution to the Australian Defence Forces AIR5428 Pilot Training Program tender. The redesigned CT/4F was pitched alongside the T-6C Texan as part of the bid. The CT/4F was offered with an uprated 300hp engine and a glass cockpit modelled off the T-6.
The bid was ultimately unsuccessful, losing out to the Pilatus / Lockheed Martin bid with the PC-21, and the CT/4F was returned to its humble steam driven gauges. However the model by Iris Simulations gives us a insight into what might have been.
This livery is based on a legacy RNZAF scheme (complete with civilian registration!) and is a speculation more than anything else. Download it now and take it for a test flight yourself!
Safe Skies
Novawing24