It is with a particularly heavy heart that I report that the developer Flying Stations is hanging up its goggles and helmet and calling it a day.
Although they had not produced a lot of content in the last several years, they had produced a wide range of unusual subject matter aircraft over the years, all centred around British subjects. In a Facebook post the team advised that due to a lack of time to support and devleop new models they have decided to call it a day.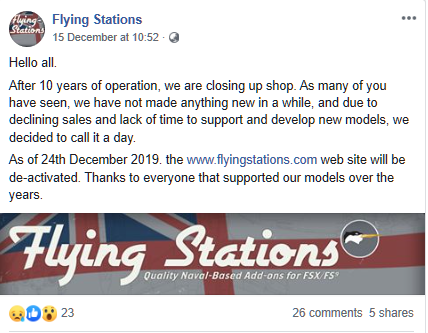 For me their rendition of the Westland Wyvern was one of the first video reviews I ever did as I started on my journey of video making.
I flew other aircraft, but especially enjoyed operating off their carrier fleet. They produced HMS Ark Royal in her fit out operating Phantoms and Buccaneers as well as HMS Victorious in 3 different stages of her service career.
Their website will be closing up for the final time on December 24 2019, so if there is anything you want to pick up now is your last chance.
As at the time of writing they have not advised if they will be releasing their content on to other distribution platforms once they close. So if you want to experience some British naval history, head over before its too late.
The legacy of Flying Stations does live on however. Skippy Bing, one of the lead modellers and texture artists from Flying Stations, recently struck out on his own and formed Bravo Zulu, releasing his first payware product, the Fairey Firefly, earlier this year. Skippy is currently working on a SeaFire for P3Dv4+.
We wish all the team at Flying Stations Fair Winds and Clear Skies!
Bravo Zulu!